Since X-Men kind of left me hooked into 2D fighting games for the Saturn, when I saw the chance to play a rather obscure import title, I didn't think twice. The game in question is World Heroes Perfect, a game that I doubt many of you will recognize. After a little research I found out that this game is actually the 4th title in the World Heroes series and this Saturn version is in fact a port of the original Neo Geo release, although a little improved.
The story of this title (not that a beat'em up needs one) is rather interesting, actually, because it revolves around time travelling and that explains some characters based on real historical figures and some of backgrounds, like Ancient Egypt or Ice Age. But the core of any fighting game is the gameplay, and the one present in WHP is a little different from what most players are used to (I had a hard time getting used to it after playing X-Men for some time).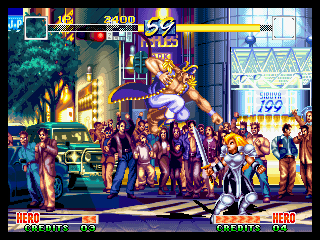 There's the usual punch and kick attacks, divided into the light, medium and hard variations, but unlike X-Men, for example, you just have buttons assigned to the light and medium attacks (X, Y for punches, A, B for kicks). In order to do a Hard kick you have to press A+B and for Hard punches the combination is X+Y, and because I really used this attacks a lot I ended up playing not with my thumb but with my...hmm...what do you call the 2 fingers next to the thumb? My english sucks... Anyway, you get the idea. Remember that dude in the Soul Calibur documentary? It's something like that.
The point is, it would be a lot better if you could just use the Z and C buttons for Hard attacks, but I guess that complicated controls suit well for a game with such a complex gameplay. Besides the regular attacks and combos you also can do taunts, ABC specials (special moves that vary from character to character and aren't always offensive, so don't expect 25-hit combos), projectile kills, defense blows, air counter attacks, projectile deflects and supers.
Oh, and in case you haven't noticed there's also a "Hero" meter in the bottom of the screen, and when this fills up, well, guess what...
But don't be fooled by the Perfect in the title, for this game is a little far from that. It lacks gameplay modes (there's only the regular arcade-style mode and a VS mode) and unlockable goodies (the final boss is selectable from the start!), so you probably won't come back many times; the graphics, although nice, are a little below other fighting games for the Saturn; and the gameplay is not going to appeal to everyone.
But hey, this is afterall a fighting game for the elite, the hardcore fans, not the masses, and those guys should definitely have a look at this game, while the others play a bit more of Virtua Fighter.