I was at a Media Markt the other day, buying some cd's and dvd's and thinking to myself what a shame it is that here in Portugal it's almost impossible to find a store selling used/old videogames outside the big cities (that are basically just Lisbon and Oporto, and maybe Coimbra), when I saw a PS2 linked to a big arse HDTV with Tomb Raider Anniversary. (as a side note, let's just say that such a TV linked to a PS2 was a waste. The image was all blurry and it was so pixelated that I can get way better with my good old standard tv…)
Needless to say, I picked the controller right away (there was no one playing) and started to jump and shoot like a pro, since I've played TR: Legend not too long ago and the control scheme was almost the same. Speaking of the game itself, it's basically just Legend with new levels and back to the basics, with more animals to kill instead of humans. The good thing is, this kind of gameplay never gets old, and I was immediately sucked in by the sheer fun that it is to jump and climb through such well designed levels. The point is, I liked it so much that I'm planning on buying it, but not before I finish something else…
And that "something" is what brings me to this post and the reason why I'm talking about a PS2 game in a Saturn blog. In case you don't know, this TR: Anniversary is not an entirely new game, but instead it's some kind of remake of the original Tomb Raider, that awesome game that came out on the Saturn (as well as on the PC and PS1) in the distant year of 1996.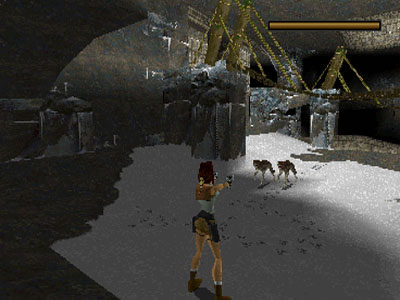 I first saw that hallowed game in action in a demo cd (Preview Vol. 1, I think) a long time ago, back when I was a kid (I had my first Saturn when I was 8 or something), but I never had the chance to play the full game until a couple years ago, although it was none of the original versions but the more recent N-Gage port (gamers phone, oh yeah!). Although the conversion was pretty good, it wasn't the same thing as playing it on a little black box, and since it wasn't the more appropriated game for a portable machine I got tired of it rather soon. After that I thought I would never play the original Tomb Raider again…
…until now! That's right, the newest addition to my ever-growing collection of Saturn games is none other than Tomb Raider! Been playing it since yesterday and I'm already a little farther from the point I quitted when I was playing it on the NG, so there's a good chance I might finish it this time. Too bad I'm already stuck in a room with spikes (yikes!), but that's nothing that a little of perseverance (and many tries) can't solve.
So, if I manage to play it to the very end, you can expect it to be my next 'yard-exclusive review, and, in the event that if I finish both this and the Anniversary edition, maybe I'll post a little comparative review about how much they actually have in common.
Until then, goodbye and good games ;)